A Passion for Pedigree Suffolk Sheep
Mother and daughter Glynis and Jane Soulsby still share the passion for pedigree Suffolk sheep breeding 28 years after their Williamsgill flock was established.
Jane was only eight when Glynis and Taylor's younger son Thomas, took on the job of milking the dairy herd at Williamsgill, Temple Sowerby, near Penrith, when he left school in 1990.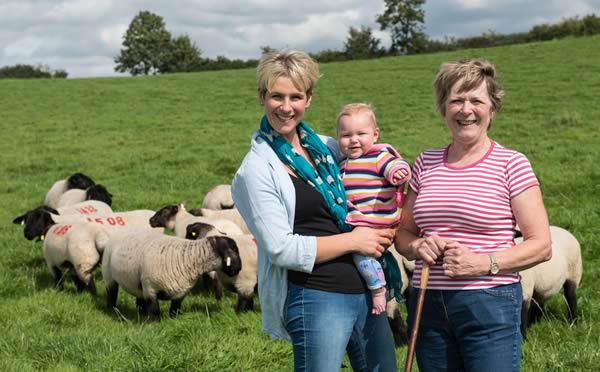 Now Glynis and Jane are enjoying the fruits of their selective breeding programme which involves serving all the flock's breeding females with AI from stock rams in early August.
"With the type of Suffolk we have tried to breed we have we have kept the carcase characteristics without breeding for extra bone and head size, which also helps with lambing ease," said Glynis.
"We have also kept the breed's colours good with tight skins on the ewes, which is what the commercial breeder wants," she added. "It is the commercial breeder who puts the money in our pockets - however we always hope to breed something special for the pedigree breeder."
Jane, whose partner Paul Moffet has his own building business, is on maternity leave having given birth to daughter Harriet in November last year.
Her job as national key account manager with pharmaceutical company Norbrook Laboratories takes her all over the country working with large and small animal veterinary accounts.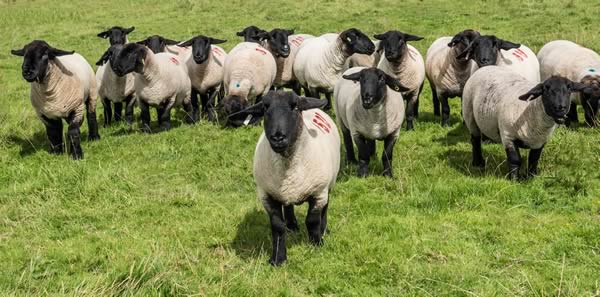 While her job takes her away from home and managing the sheep, Jane always tries to be at shows and sales with her mum to help promote the investment in time and money they make in the flock.
For the last four years she has been a member of the Suffolk Sheep Society's council.
This summer she and Glynis - accompanied by budding shepherdess Harriet - judged the national flock competition visiting 15 members' flocks as far afield as Devon, Scotland and Northern Ireland, which was a great honour.
This year has been successful with the season starting off with their only agricultural show, The Northumberland County Show, where they won the male championship and reserve breed championship with their home bred ram lamb Williamsgill Blackjack by stock ram Strathisla HRH.
At the Carlisle society show and sale in early August, the Soulsbys achieved the male and overall championships with their ram lamb by Roseden Endeavour, purchased as a lamb at Shrewsbury in 2016. The Carlisle champion sold for 1,500gns the third highest male price on the day, to Michael Tett, of Raikes Farm, Preston.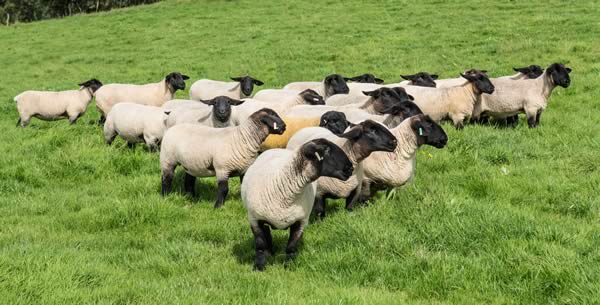 The Williamsgill flock was the winner of its group - the medium sized flock - in The Northern Counties of England Branch flock competition 2017. The Soulsbys also won the ewe class for the area with a three crop ewe by Strahisla HRH.
And in their first attempt at showing prime lambs, Glynis and Jane received a second prize at Borderway Agri-Expo with a pair of mid-March born Suffolk cross ewes selected from only 10 cross-bred lambs at home.
The Williamsgill flock won the northern counties branch competition in 2006, beating off competition from flocks as far south as Lincolnshire to the Scottish border in the north.
The Soulsbys entered the national flock competition for the first time in 2009 when they received a certificate of merit as well as the Sainsbury Cup for the best ewe lambs.
They competed at The Royal Highland Show in 2013 and were placed first in a strong class with their ram Strathisla HRH. That year, closer to home at Penrith Show, they also won the overall sheep championship with a home-bred ewe lamb by Strathisla HRH.
Other notable successes have included the reserve overall sheep champion ship at the 2014 Northumberland County Show with a ewe by Strathbeg Stan the Man.
And in 2015 they entered the national flock competition and were awarded the John Lloyd cup for the best flock sized 16-30 ewes and reserve in the progeny group with Strathisla HRH.
The flock currently numbers 40 ewes plus ewe lambs, an optimum number for Glynis and Jane to cope with. The ewes which are all home bred are run alongside the dairy herd at Williamsgill run by Glynis's husband Taylor and brother Ged and sons Peter and Thomas.
They are helped with preparation of the sheep for shows and sales by Hamish Currie, who breeds Texels, but who used to prepare sheep for Jack Irving when he had Suffolks.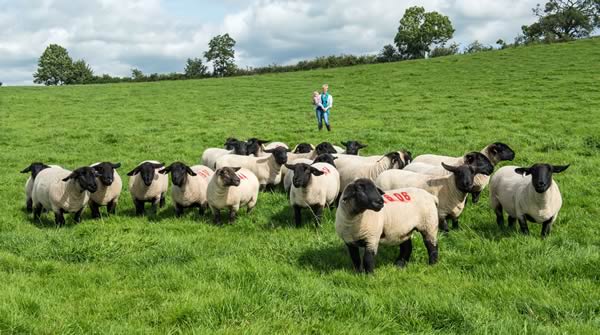 Jane, who has a passion for sheep, is an honours graduate in animal science from Newcastle University, uses her expertise when the ewes are AI'd in early August for lambing at the beginning of the following January when she also tries to be at home.
The whole flock has been served by AI for the last 20 years and it is carried out with fresh semen on one day in early August by James Mylne of AB Europe, Edinburgh. Stock rams used this year are Roseden Endeavour and Strathbogie Invictus, by Lakeview No Limits, bought in Shrewsbury this summer. The stock rams sweep up any which have not held to service.
Glynis said: "It's expensive but it does help batch the sheep both for lambing time and for feeding and marketing. It also means I have a break from getting up through the night to check on the ewes!
"Those which have held to the AI will lamb over six days then there is a gap before the next cycle of 17 days which allows me to re-charge my batteries.
"Taylor looks at the sheep before bed at midnight and I get up to see to them at around 2.30am. I only bother Taylor if I have a difficult lambing but we get very few. Handling an in-lamb ewe - which can weigh 100kg or more - is a skill in itself. Like everyone who breeds pedigree livestock, we give it 110 per cent."
The aim is to produce ram lambs for sale. The Soulsby's like to keep the flock young and some ewes will be sold geld in the spring
"We have stuck with the Suffolk while some other terminal sires have become popular, but there is an increasing interest again in the breed which achieves faster live weight gain and we have found that the ewes have less udder and feet problems," said Glynis.
"The breed is regaining popularity, particularly among younger breeders. They make an excellent terminal sire on Mules and other crossbreed sheep," said Jane.
"Suffolk cross ewes produce a good prime lamb when crossed with the Beltex or Texel tup. The Suffolk is a good all-rounder. The female is a decent size and milks well and that length of carcase produces good prime lambs whatever the cross
Jane said the breed was gaining popularity with younger breeders. "For younger people who want to be part of a breed they have got to have a passion for it. I did when I was younger and still have!"