Moralee Herefords Live up to Expectations
Pedigree Hereford cattle have lived up to expectations for Tom and Di Harrison at Mickley Square, near Stocksfield, Northumberland, winning acclaim in the show ring, topping pedigree sales and providing quality beef for direct sale.
Both work full time - Tom is a land agent with Northumbrian Water based at Pity Me and covering an area from Berwick to Teesside dealing with pipeline compensation agreements with private landlords. Di is an accountant at Gosforth Academy, in Newcastle.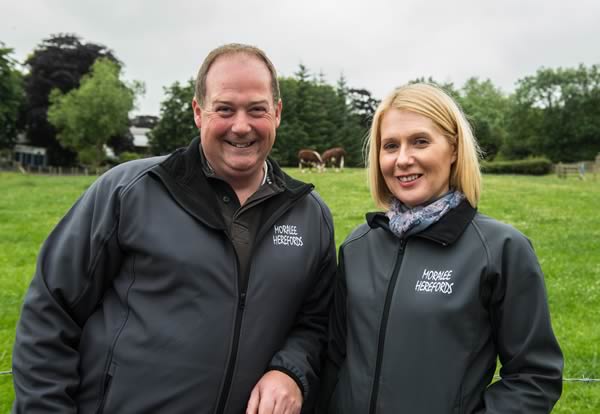 "My Dad Arnold had run Limousin cross cows put to the Blonde bull and latterly had bought in store cattle until he decided to retire," said Tom.
"We did our research and Herefords were the obvious choice for us, the main reason being their docility," said Tom. "We wanted a breed that either me or Di could go into a pen with on our own.
The Moralee Hereford herd - named after Di's maiden name and High Moralee where Di's parents Alec and Joan had farmed near Wark in the Tyne Valley - was founded in September 2011 with a handful of females bought from David and Kate Dickinson's Mallowburn herd at Catcleugh.
The cattle have proved ideal for the 230 acre farm at Eltringham which is sand and gravel just to the south of the River Tyne. The farm includes 90 acres of arable land which is contract farmed as well as woodland.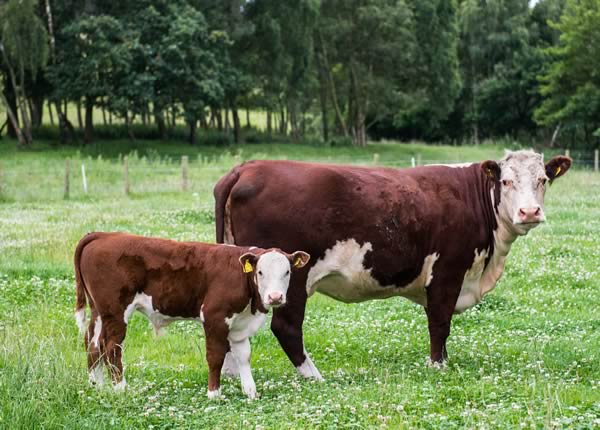 The village of Mickley Square grew on the back of coal mining and the Harrisons converted what they called the Old Potato House, a former mine office, into their home and the cattle are outwintered on the surrounding land which includes former washing plants for the coal from the drift mine.
Herd numbers have increased to 28 cows with additions from Robert Wilson's Romany herd at Kelso which were polled with bloodlines going back to the Canadian bull, Glenlees Storm. With more purchasers looking for polled cattle on welfare grounds, the Harrisons are breeding for this gene, as well as for conformation and looking to reduce the carcase weight.
Because the cattle are such good converters of grass into marbled beef, the Harrisons started a chilled boxed beef scheme, Moralee Hereford Beef. They sold four cattle in the first year and from September last year to March this year they sold 12 cattle in boxes.
"Our boxed beef scheme is going so well. It gives us the opportunity to keep only the best for pedigree breeding. We have had 19 calving this spring but we decided we would only keep three bulls out of the best cows and castrate the rest. It's a bit of a challenge to make the decision in the first 28 days of the calf's life," said Tom, who believes they can sell 24 cattle via boxes a year and the farm could cary 40 cows plus followers. Sub-standard heifers for legs and feet as well as udders are also sold through the scheme.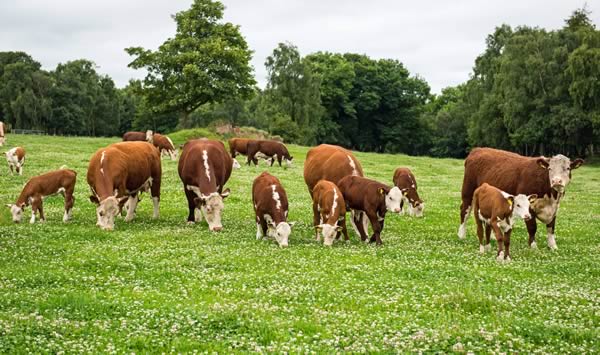 The aim is for finishing off grass the following year at 15 to 18 months old at 600-650kg liveweight with a 320kg carcase which is cut up by butcher Joe Simpson at Cockfield who has his own abattoir.
Heifers are bulled at 21 months to give them extra growth and to fit in with the system. The cows are outwintered in the pit heaps on silage and some straw to keep their condition down for spring calving. Calves are housed the first winter, staying on their mothers until Christmas.
They are given creep feed in the summer then they are fed silage and a maintenance blend from Davidsons with most finishing off grass.
The herd is Breedplan recorded and it is in the Biobest High Health scheme.
The policy of only keeping the best pedigrees for breeding is paying off. While bulls have been sold privately, the first sale through the ring was in April at the National Hereford Sale when Moralee 1 Novak, the junior champion and reserve male champion at 13 months old, made the second top price of the sale at 6,200gns to David Deville for his Alderville herd near Derby.
Another bull bred the same way has just been sold to the Chatsworth Estate in Derbyshire which sells beef through its renowned farm shop.
At the Carlisle Hereford Spring Show and Sale in Carlisle in May their the reserve champion Moralee 1 Ned made the sale's second top price at 2,900gns, 100gns behind the leader. Sired by Romany 1 Lawbreaker and out of Mallowburn 1 Ethel Carr, the 14 month old bull sold to JF & S Heath from Hull.
The first females sold though the ring were at the Designer Genes sale last December in Shrewsbury.
Both nine month old heifers were also the first to sell from senior herd sire Cornriggs 1 Knight Rider. Moralee 1 Nest Egg was sold to PA Astley for 4,200gns and Moralee 1 Nigella was sold to George Morgan for 3,200gns.
Knight Rider is being used across the herd which has diverse bloodlines because of previous use of AI sires.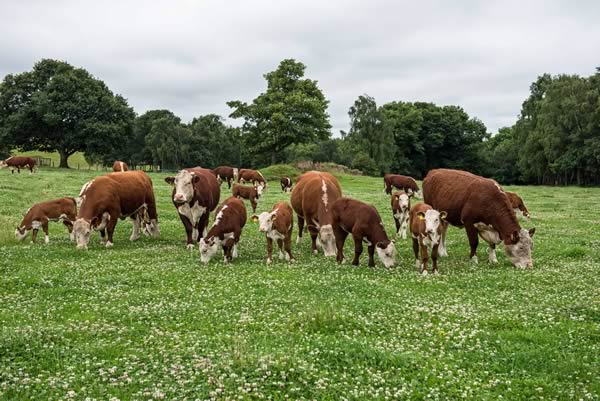 The Harrisons have been bitten by the show bug and within a relatively short space of time, their best success was at the Royal Highland Show in June, taking the breed championship on only the second time of showing at the event. They are supported in their show team by Tom's sister and her husband from Elsdon, Otterburn, Jane and Jonathan Anderson's two children, Charlotte, 12 and James, 11
The Harrisons purchased Coley 1 Pippa 356 from Heather Whitaker, Halifax due to her appearance, performance figures and breeding. Tom commented, "We really liked the look of Pippa's dam, 2013 Hereford Female of Year, Frenchstone P. 1 Boo, so we were determined to purchase one of her off-spring." Two year old Coley 1 Pippa 356 is by the much vaulted Australian bred sire Days Calibre G74.
Pippa took the couple's third breed championship in a row at the Northumberland County Show early in the season. At the 2016 event, they won five championships.
There was more success in the junior female championship at the Highland Show for Tom and Di, this time with heifer Moralee 1 Kate 2nd, at 15 months old she is out of Moralee 1 Kate and sired by Cogent AI sire Romany 1 Frisky A84 F57. She is to be sold at the Designer Genes sale this December.