Jennifer MacKenzie is an agricultural photo journalist with almost 30 year's experience. Operating from her base in Cumbria, Jennifer undertakes mainly industry-related freelance writing and photography.
Faith in traditional Dexter cattle

Faith in traditional Dexter cattle and dedication to the breed's resurgence has paid off for Veronica Schofield.

The low input yet productive cows typically weigh around 350kg yet finished steers can produce a carcase of up to 220 kg which has proved ideal for the smallholding Beckside Farm, Ivegill, run by Veronica and her husband Gordon.

The Harron herd is one of the oldest surviving Dexter herds, established in 1977 when Veronica, looking for a breed to suit the 11 acres at Beckside, responded to an advert in the local paper for a breeder near Hexham.

The heifer she bought from Jane Dotchin's Ploverhill herd was of pure Ypsitty breeding - the Ypsitty herd run by Sue Rheam at Bothel in Cumbria is the oldest surviving, having been set up after the second world war by Sue's father.

The Dexter, the smallest breed of British cattle, originated in the south west of Ireland, yet it is only relatively recently that there has been renewed interest in the cattle in Eire.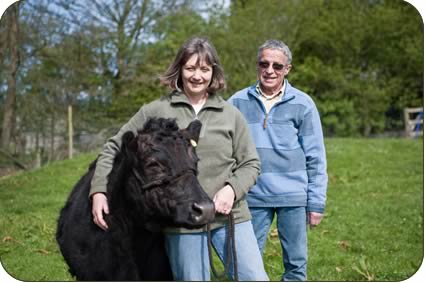 Veronica and Gordon Schofield with Dexters
First introduced to England in 1882, they were in demand by landowners who wanted small cattle to graze their parkland. These included Edward VII who was president of the recently formed society from 1901-2 as well as Lady Lonsdale, wife of the "Yellow Earl" at Lowther near Penrith.

Today society membership is probably at its greatest with over 1,200 members in the UK and Eire. In 1977, when Veronica joined the society, there were 134 pedigree female registrations during the year with 70 on the grading-up register, plus 11 bulls.

In 2010 the society registered 2,328 female calves and 129 breeding bulls with a total of 22,183 live females on the database.

"Today the breed appeals to the growing number of part time farmers like myself who also have a full time job or who run another business," said Veronica.

"The virtues of Dexter beef which is fine grained, well-marbled with a great flavour have been extolled on numerous TV cookery programmes in recent years and producers have been adept in developing their own niche markets for the meat through farmers' markets, farm shops or freezer packs direct from the farm," she added.

As well as the Dexter Cattle Society's beef marketing project, a major marketing scheme has been launched by Northern Ireland company Crossgar Meats.

The easily managed breed has partly sold itself and while the majority of producers have smaller acreages, some herds now run into the 100s.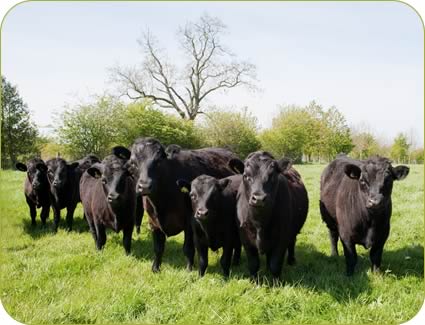 Dexter steers and heifer
The breed's resurgence has been one of the Rare Breed Survival Trust's success stories, moving from its endangered list 30 years ago.

But it has also benefited from a forward-thinking society which has been heavily involved with issues including improving health, conformation and genetics and is now actively marketing the beef via its website.

In the early days of the Harron herd, Dexters were quite difficult to come by, especially in the north.

"We found that the lack of uniformity of the calves produced by the smaller, short-legged animals was frustrating, both for the look of the herd and for producing steers to a reasonably consistent size and weight " said Veronica.

"From then on our aim was to breed a level herd of non-short, dual purpose, deep bodied cows which do not look out of place in the show ring. We enter three or four of the northern shows each year," she added.

Gordon and Veronica run a total of 45 head of Dexters and have calved 16 females this spring. They now own 25 acres and rent a further 20 acres of summer grazing.

Heifers are calved at 24 to 30 months old and each cow is expected to produce a calf a year. As well as being fertile, Dexters are long-lived.

Harron Sable is still in the herd at the age of 24 has produced one of the main herd families and is descended from Glencroft Megan who produced the first Dexter heifer born at Beckside in 1978, Harron Siskin.

Veronica said: "We can't afford to be too sentimental about our stock and don't usually keep animals after the end of their breeding life, but Sable has earned her retirement!"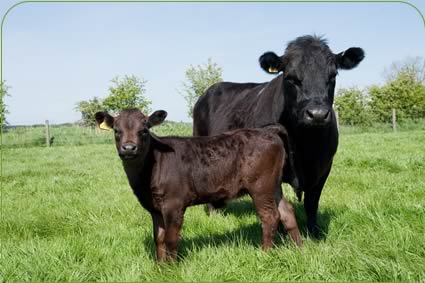 Dexter cow and calf
Another of the females which has had the most influence on the herd, Harron Rosemary, a daughter of Ploverhill Saffron the original heifer, produced 17 calves and reared over 40 calves during her 19 years in the herd.

A dual purpose breed, milk recorded cows have been known to give up to 4,000kg of milk in a lactation.

Harron cows until 13 years ago were double-suckled with bought-in Angus, Limousin or Simmental cross calves but despite the success, biosecurity concerns and work away from the farm forced this to end.

The Schofields finish between two and four steers a year at just under 30 months old off grass. Carcases ranging in weight from 175kg to 220kg are sold to family and friends.

A strict selection policy means that only bull calves from chosen cows are kept entire and other calves are banded at birth.

Breeding bulls and females are sold privately and through the ring and females from smaller herds without a stock bull are brought to Beckside for service.

Among the herd's recently used sires are home-bred Loyal Soldier and Sonny Jim as well as a young red bull, Arnaby Rob Roy.

The breed's easy calving producing vigorous calves makes it a useful crossing bull, despite its size. While the increased demand for pure bred Dexter beef is giving little justification for crossing, there is interest, particularly from dairy farmers for use on Holstein heifers.

In fact, the Schofields came to the rescue after the 2001 foot and mouth epidemic, loaning their stock bull Harron Lucky Fiddler to a neighbouring dairy farmer for use on some of his Holstein heifers. One of the cross-bred progeny is still milking in the herd!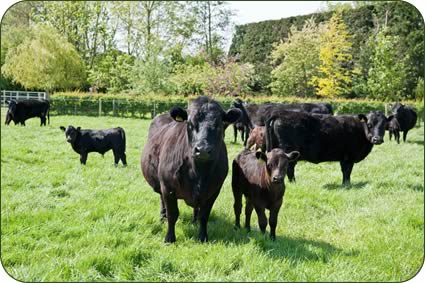 Dexter cows and calves
The Dexter also makes a good cross with other traditional breeds such as the Aberdeen Angus or Shorthorn as well a continental breeds such as the Limousin.

During more than three decades as a society member, Veronica has been president twice and was previously a council member for 20 years.

She is a member of the genetics sub committee and has been involved with two major genetic research projects with the society. Extensive research with the Roslin Institute, Edinburgh and Reprogen in Australia located the dwarf gene responsible for the "bulldog" syndrome and a test is now available through the Society to identify carriers and enable breeders to avoid or eliminate the problem.

A second genetics project was carried out with Cardiff University into the breed which through DNA profiling has confirmed the Dexter as being a very distinct breed, with little introgression from other breeds.
Demand for the breed has spread beyond the UK and Eire to Denmark, Holland and Germany and North America, Canada, Australia and New Zealand. Harron bulls have been exported and Veronica has judged abroad and was guest speaker at the US society's annual meeting.

As the interest in the breed has grown and the membership of the society has increased, particularly in the north, Veronica was involved with the establishment of a new Borders Dexter Group.

The group held its inaugural sale to coincide with the annual Rare, Minority and Traditional Breeds show and sale at Borderway, Carlisle, last September.

Such was the success in attracting entries and the demand for the stock, that a second event is scheduled for Saturday September 17 at Borderway.