Jennifer MacKenzie is an agricultural photo journalist with almost 30 year's experience. Operating from her base in Cumbria, Jennifer undertakes mainly industry-related freelance writing and photography.
Maize improves Milk Production

Maize silage has been an important component in the diet of one of the leading UK pedigree Holstein herds in the UK despite its northerly base at Thursby, near Carlisle.
Kevin and Christine Wilson run 220 cows in their pedigree Holstein Warnelview herd at Wood Farm, Thursby – in 2005 it was selected the Premier top herd by Holstein UK.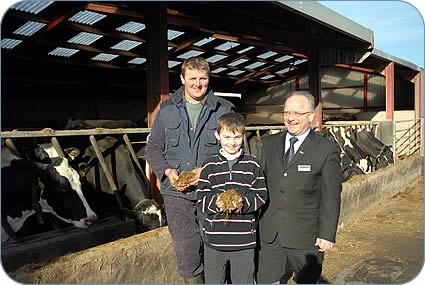 Kevin Wilson, left, with 11 year old son Thomas and NK's Nigel Padbury
And for eight years maize has been grown under plastic to complement the farm's grass silage crop and enable half the milk produced to come from forage.
"In our first year we grew a field conventionally and some under plastic," said Kevin. "It was obvious how well it performed under plastic giving up to 20 tonnes of freshweight per acre.
"Not only did including the maize silage in the diet improve milk production but there was an improvement in cow health all-round from fertility to feet because it is so good for the cows' rumen.
"The key is finding the right variety of maize which suits the growing conditions of your farm.
Wood Farm was the venue for an open day staged by Keenan Rumans and their consultant nutritionist David Jacklin and NK Seeds' Nigel Padbury who urged north of England livestock producers to consider growing maize as a cost-effective fodder crop.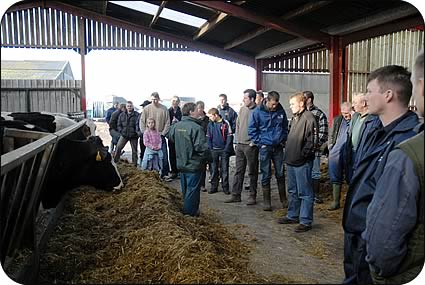 Vet Kath Alpin discusses how Kevin Wilson has adopted a preventative
approach to herd health which is helping him to achieve his ultimate goals
Kath Alpin from Carlisle based Paragon Vets, a member of the XL Group, discussed how Kevin Wilson has adopted a preventative approach to herd health which is helping him to achieve his ultimate goals.
"Looking at the costs of growing maize, even with the increases in inputs we have seen in 2006-07, it's £284 an acre of variable costs. If you achieve a freshweight yield of 18 tonnes an acre it works out at £55 per tonne of dry matter per acre which is worthwhile considering the costs of compound feed," said Nigel Padbury.
"Maize makes a great contribution in the ration with grass silage, not just in terms of improved milk yields.
"The varieties available and the increasing use of plastic make maize a much more attractive crop to grow in the north than it was five years ago. Plant breeders now have a lot of varieties in terms of maturity and quality characteristics which can be selected with the help of your nutritionist."
At Wood Farm Pioneer's Justina variety has been grown successfully under plastic for the last four years. NK, the Syngenta Seeds maize brand, has just introduced its own variety NK Bull which is also suitable for northern England and which leads the 2008 NIAB Descriptive List for yield and digestibility.
"By growing a later variety under plastic you can increase total dry matter content by as much as five tonnes an acre and increase the starch content by at least three per cent."
The maize crop at Wood Farm is sown as early as possible in April in a rotation around the farm. Lime levels of the soil are monitored closely and the crop's ability to grow with liberal doses of manure means that slurry can be spread later in the spring when grass silage crops are nearing maturity.
Harvesting is usually the last week in September or early October and the crop is followed by either winter wheat or winter barley, enabling two crops to be grown in the year.
The Warnelview herd averages more than 10,000 litres a cow at 4.2 per cent butterfat and 3.3 per cent protein. It has 65 cows classified EX and 85 VG. Kevin and Christine's aim is to breed a cow with rump width which will last.
Keenan benchmarks its clients and production from the Warnelview herd in terms of feed conversion ratio and margins is among the leading herds in the north.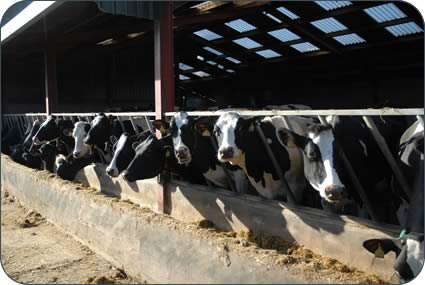 The milking cows at Wood Farm
The straw-bedded high yielders at Wood Farm which account for up to 60 of the cows are fed 20kg each of maize silage and grass silage, 1kg of straw, 2.5kg of maize meal, 3.5 kg of soya meal and 6kg of Vitagold moist grains. They are fed up to a maximum of 5kg of concentrate in the parlour.
The second group accounting for around 150 cows are fed a much more limited amount of maize silage at up to 6kg, with 35kg of grass silage, 1kg of straw, 2kg maize meal, 4kg Vitagold, 2.5kg soya meal and minerals. They are fed in parlour up to a maximum of 3.5kg a day.
Mr Jacklin said: "The cows are milking well with good milk solids and on an efficiency and margin basis they are in the top few per cent of the herds that we deal with."
For December milk, the herd had an average margin over purchased feed of £1,538 per cow. Concentrate cost was 4.64p per litre, half of which is forage and half concentrate.
Mr Jacklin said there were benefits to feeding mixed forages such as maize silage and grass silage including higher intakes and the feeds complementing each other in terms of protein and starch content. It also spread the risk if one crop had a poorer year because of the weather.