Jennifer MacKenzie is an agricultural photo journalist with almost 30 year's experience. Operating from her base in Cumbria, Jennifer undertakes mainly industry-related freelance writing and photography.
Bazadaise, the easy-care cow
On re-stocking after foot and mouth Richard Carruthers wanted to establish a closed herd of purebred cattle which was easy calving, very hardy and would have the ability to produce a double muscled calf.
"After looking into all the different breeds and how much it would cost to get into them and have a pure herd, the Bazadaise leapt out at me," said Richard.
"I looked at a number of herds and decided this was the one. Talking to various breeders who have kept the cattle for a few years they all said the cows had an excellent ability to produce a calf a year for 10-plus years without any fertility or health problems at all. It's the ease of calving which makes them a joy to work with."
Pure Bazadaise bull calves.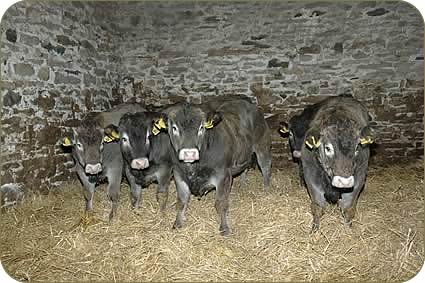 Almost three years after re-stocking, Richard has no regrets with his choice – he currently runs 130 suckler cows at Rawfoot Farm, in the Bampton valley near Shap, Cumbria, 30 of which are pedigree Bazadaise, with 90 Bazadaise cross Frieisian sucklers and up to 10 pure Belgian Blue cattle.
Rawfoot Farm runs to 320 all-grass acres and Richard, whose wife Laila gave birth to their first son, Samuel, in December, is currently taking on the tenanted Lowther Estate farm from his parents Peter and Ruth.
The farm carries a fell flock of 200 Rough Fell sheep which are bred pure and run on Rosgill Moor. The flock, which is one of the northernmost in the county for the breed, was re-established after foot and mouth, will probably be upgraded to pedigree.
There is also a flock of 450 North of England Mules which are put to the Texel or Suffolk which Richard says are less labour intensive than the farm's previous flock of Beltex cross Texel ewes which were put back to the Beltex.
All the lambs are finished off the farm along with the wethers from the fell flock and they are sold through Penrith Mart.
"It's hassle-free suckled calf production with the Bazadaise because the calves just pop out," said Richard.
"When my parents retire it will be down to me and my wife so I want something which is easily managed when we are pushed for staff. There's an old saying that 'there's nee profit in a dead y'un' and if every cow produces a live calf that's a big plus."
Richard Carruthers with pure Bazadaise bull calves.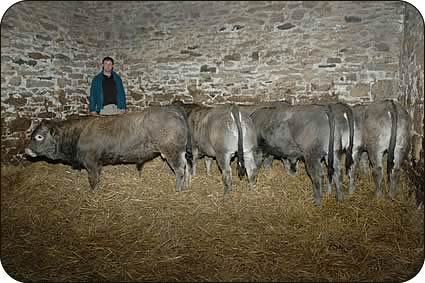 With a relatively small pool of pedigree Bazadaise breeding cattle in the UK, Richard set out to source his new Valley herd.
The chairman of the Bazadaise society Roy Gostling from Norfolk, was retiring and Richard was able to buy 25 females from him along with another six from Cumbrian breeder Jim Middleton, of Newton Arlosh in the spring of 2002. The females were of varying ages from in-calf heifers to cows of 10 years and older. The c urrent stock bull making its mark is Saltcoats Peter.
The cross bred sucklers – in calf heifers and in calf cows - were bought from a Leicestershire dairy farmer who uses the Bazadaise bull on his herd and they are put back to the Belgian Blue, a breed Richard has favoured for 15 years.
All the male pedigree calves are kept entire and are taken through to breeding age with the intention of selling them as breeding bulls if they are suitable. A few of the females have been sold locally.
So far more than 20 bull calves – all the pedigrees - have been sold from the herd's two crops of calves to both dairy and suckler farmers.
A leading AI company is currently looking to purchase two young bulls from the Valley herd for its stud.
And Richard is making good progress with exporting semen and embryos to South America where there is a big interest in the breed.
"My long-term aim is to run a herd of 100-plus pedigree Bazadaise cows, keeping the best for breeding pure and crossing the rest with the Belgian Blue to produce a good suckled calf. The cross-bred cows will gradually be replaced with pure-bred cows," said Richard.
Previously the suckler herd was three quarter Limousin and Belgian Blue cross which were more labour-intensive.
The whole herd is run commercially as one calving in the spring from April to June, mostly inside. A herd health plan is operated with cattle being vaccinated against BVD and leptospirosis as well as regular blood tests being taken to detect any deficiencies.
"The breed's calving ease is exceptional. When the calves are born they are relatively small but after two or three weeks they start to grow. The calves have a zest for life and they are suckling within half an hour," said Richard.
Cows and calves are housed and fed on silage for about eight months in the winter until early May. Calves are creep fed from two months.
The hardiness of the breed allows in-calf heifers to be out-wintered even though the farm is high and exposed.
The cross-bred bullocks and heifers are all sold at 10 to 13 months old through Penrith Mart. Some of the heifers have been bought for breeding and Richard is pleased with the prices which compare to a good Belgian Blue cross calf.
Having sold all the bulls he has bred so far, and with a waiting list of customers for the 15 to 20 young bulls he has coming on, Richard is pleased to have ventured into the Bazadaise.
"Part of the attraction was to have a niche market and being only one of a handful of breeders as opposed to some breeds in the area which have hundreds of bulls for sale. Ultimately I have to make a profit in order to pay the rent. The idea is to create a demand and then supply it," said Richard.